#ClassOf2020: 129 new PhD holders
16 May 2021
"A PhD is about pushing boundaries. It's about testing and establishing new evidence and fields." In these words, Prof. Jens Kreisel, Vice-Rector for research, University of Luxembourg, kicked off the PhD Graduation Ceremony, which took place in a hybrid format on 12 May 2021, followed by a congratulatory speech from Prof. Stephane Pallage, Rector of the University of Luxembourg.
15 winners of the 2020's "Excellent Thesis Award"
The University of Luxembourg has honoured 15 PhD graduates of 2020 with the first Excellent Thesis Award which recognises the outstanding quality of their doctoral theses. Nine awardees come from the Doctoral School in Science and Engineering, four from the Doctoral School in Humanities and Social Sciences, one from the Doctoral School in Law and one from the Doctoral School in Economics and Finance.
Gael Chewe Ngapeya
"When I completed my Master degree at the University of Lorraine, I was selected for a PhD research both at the University of Luxembourg and at Ecole Supérieure d'Ingénieurs des Travaux de la Construction. I chose the University of Luxembourg because it was offering me a very competitive and multicultural environment of research in which I was expecting to improve my hard and soft-skills."
Diego Kreutz
"I chose the University of Luxembourg because I wanted to do my PhD under the supervision of Prof. Paulo Esteves-Veríssimo."
Filippo Mazzoli
"I really enjoyed the study of hyperbolic geometry as a student, and I was interested in moving abroad to meet new people in the academic environment. Prof. Jean-Marc Schlenker is an esteemed researcher in the subject at the University of Luxembourg and my Master thesis advisor recommended me to apply for a PhD position under his supervision."
Hugues Meyer
"Being originally from Nancy and highly interested in soft matter physics, I applied for a research internship to Prof. Tanja Schilling in the physics department of the University of Luxembourg. The internship went on so well that in the end she offered me to come back for a PhD once I was done with my master degree."
Anna Sophia Monzel
"I came to Luxembourg for a Master's programme and continued with the PhD afterwards. I was drawn to the University of Luxembourg and in particular to the LCSB because of the interdisciplinary research approaches and the cutting-edge technology used. Also, there is a special motivating spirit emanating from the university."
Fulvio Paleari
"While doing interviews for a PhD position, I was referred to the Theoretical Solid-State Physics group at the University of Luxembourg. Thus, I came to Luxembourg to give a talk about my previous work and I got to meet Prof. Ludger Wirtz and the various group members. I had a very good impression of them and of the topics they did research about. In the end, I decided to join them!"
Marc Schiry
"The main reason was the multicultural environment within the university. Additionally, the strong industrial oriented research within the Department of Engineering was also an important aspect of my decision."
Ivana Vukotic
"I got an offer to write a PhD from Professor Paulo Verissimo, one of the top researchers in the area of resilient distributed systems. Moreover, the topics were very interesting. On top of all of this, I believed that conditions to write a PhD at University of Luxembourg were excellent."
Marie-Laure Zollinger
"I had the opportunity to move in Luxembourg and in parallel, I was not satisfied with my work in industry (security engineering). I always had the idea of doing a PhD and when I contacted the Applied Security and Information Assurance Group, Prof. Peter Ryan convinced me and I applied for a position."
Christa Birkel
Christa Birkel is focusing on the Duchy of Luxembourg in the late Middle Ages (1346-1437), its sovereignty and its actors. As a co-creator of the research project Luxdynast (M. Margue / E. Adde), she is looking at the late medieval duchy in its connection to the entire territorial complex of the dynasty of the Luxembourgers.
Matthias Kern
"Working with young people with a migration background who misperceive their weight-status demands culturally sensitive interventions that take into account norms and standards from the two countries which the young person is bridging." Developing his dissertation on health, well-being and health behavior among immigrant adolescents in Luxembourg, he could base his work both on national and on international data collections originating in HBSC.
Tahereh Pazouki
"My passion and my interest are in helping the unserved population. Our goal at Magrid [a project launched at the University of Luxembourg Incubator as the result of Tahereh Pazouki's doctoral research project] was to create training programmes for children with special needs. At this point, Magrid could be used as a solution for students with language or hearing challenges but I am planning to further develop the programme to meet the needs of the dyslexic and autistic students as well".
Elisabeth Tropper
"I was looking for a topic that combines aesthetic and political-ethical issues. Furthermore, I was very interested in the idea of Europe and the construction of the European Union – perhaps all the more so after I moved to Luxembourg,
Vincent Richard
"I am delighted that the University considered my thesis worthy of an award. It highlights the importance of comparative law as Luxembourg lawyers must always pay attention to what is going on across the borders."
Nora Paulus
"I am extremely grateful to be awarded the Excellent Thesis Award. Working on my thesis was a long and challenging, but also unforgettable journey. It is nice to see that all the efforts I put into my research are being rewarded."
PhD #ClassOf2020 at a glance
Explore Class of 2020 key figures.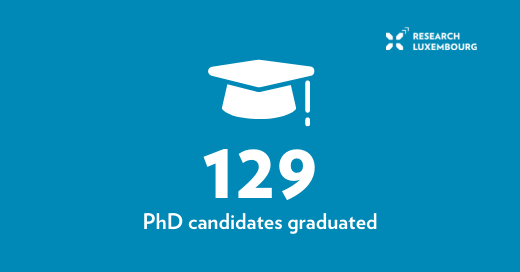 Find out complete information about #ClassOf2020.
Similar articles