Research and Industry collaboration
Internationally recognised for its research excellence in fields such as computer sciences and cybersecurity, Luxembourg also prides itself on top-level research in the fields of health, space and material sciences. Research organisations stand out for their openness to cooperate with industry, and stimulating public-private partnerships to fuel innovation is a national priority.
The University of Luxembourg – and, in particular, its Interdisciplinary Centre for Security, Reliability and Trust, the Luxembourg Institute of Science and Technology (LIST), the Luxembourg Institute of Health (LIH) and the Luxembourg Institute for Socio-Economic Research (LISER) are the public research organisations that most frequently cooperate with companies.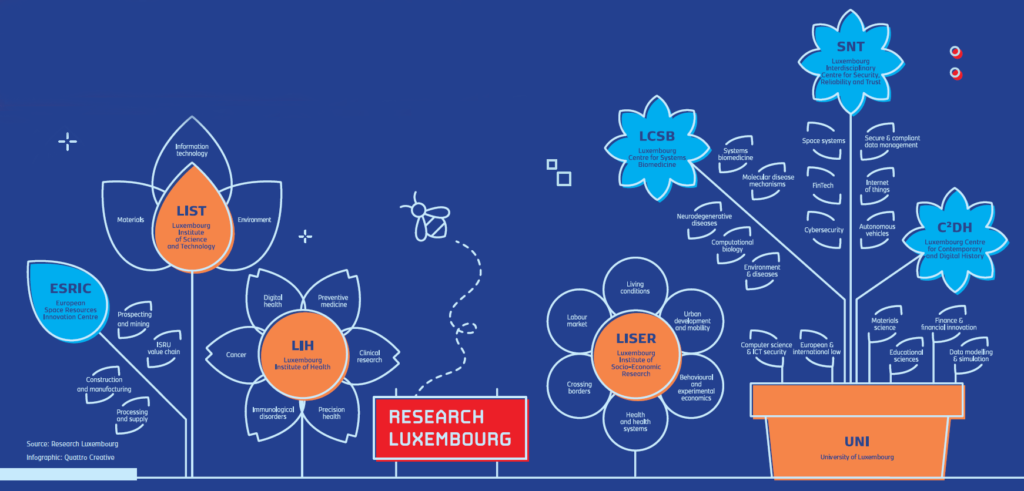 (Click on the image to see it in full size)
Supporting private companies in their R&D projects
The National Research and Innovation Strategy aims to encourage companies to undertake R&D and innovation activities. In order to make research a driver for economic diversification and for innovation in industry, the government encourages the development of public-private partnership programmes.
Cases of public-private partnership programmes in Research Luxembourg are manifold. Here are some examples:
Partnership, knowledge and technology transfer
The development of partnerships and the promotion of knowledge and technology transfer is a cornerstone of Luxembourg's research and innovation strategy.
Research Luxembourg team players have already launch several significant partnerships, patents or proof of concepts and will continue to encourage the existing dynamic. Knowledge transfer through intellectual property (IP) licensing has also been developed with existing companies or through spin-off creations.
Spin-off companies
Research Luxembourg produces a great diversity of spin-off companies. Here are some of them: