In conversation with our young researchers: Ann Kiefer
17 February 2023
Mathematics education
Research in mathematics education consists in designing and analysing processes, products and experiences with and for teachers and learners.
How to stimulate innovative and contemporary teaching through concrete examples?
Ann Kiefer is a postdoctoral researcher at the Luxembourg Centre of Educational Testing (LUCET) of the University of Luxembourg. Her projects focus on educational research, with an emphasis on science, technology, engineering, and mathematics subjects.
Giving impetus to teaching differently
The call for innovation in learning is strong. Challenges are everywhere, from how best to assess student understanding to how different units work together. Additionally, digitalisation has made the sources of information and knowledge more accessible to students who identify, analyse and evaluate through various online media. On the other side, teachers approach learning standards using different pedagogical tools to teaching.
The research interests of Ann Kiefer have always been at the crossroad of algebra and geometry. More precisely, she was working in group and ring theory combined with hyperbolic geometry. Since her PhD she has engaged in outreach activities and workshops for schools and kids.
As part of the LUCET, she is in charge of developing Science, Technology, Engineering and Mathematics (STEM) school activities.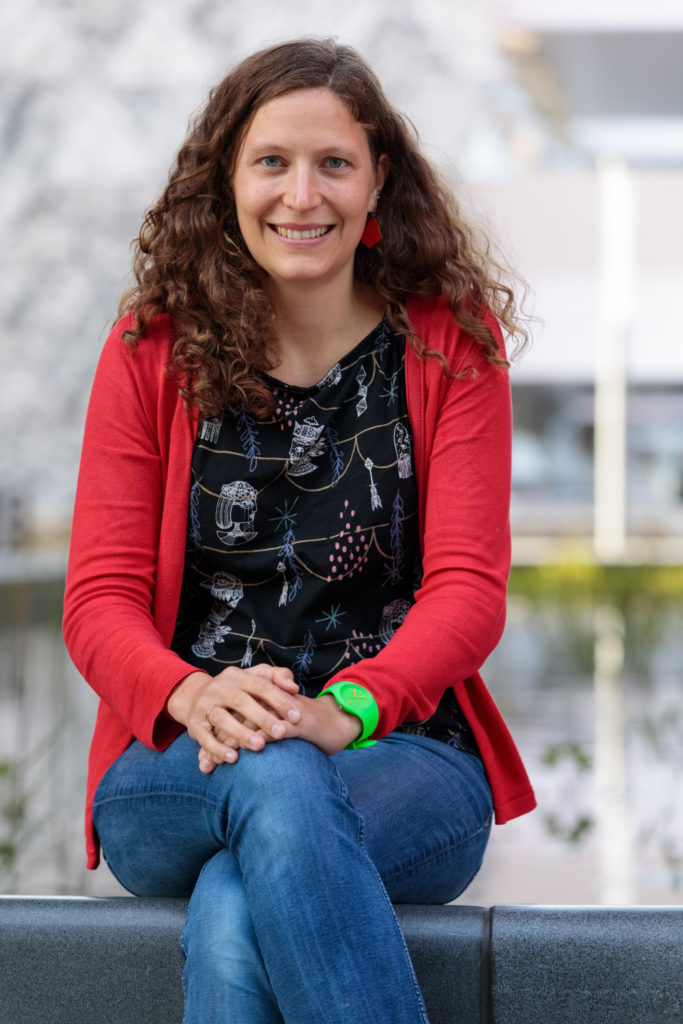 A leading member of the Programme for Innovative Teaching & Training (PITT)
Ann Kiefer is one of the leading members of the Programme for Innovative Teaching & Training (PITT). The group wishes to stimulate innovative and contemporary teaching through concrete examples. PITT's teaching modules are designed to encouraging people to think differently about teaching and to try new things.
The Programme for Innovative Teaching and Training (PITT) is an interdisciplinary project that aims to facilitate and foster contemporary teaching in Luxembourg's schools. Researchers from the Luxembourg Centre for Educational Testing (LUCET) at the University of Luxembourg, together with teachers, the SCRIPT and the IFEN, are developing innovative teaching modules and best practice examples that are specifically designed for Luxembourgish schools. The modules are available online and include teaching and learning materials from which teachers can select elements suitable for their classes.
PITT develops teaching modules as starting points for discussion. Doing so, they adopt a cooperative approach in which they value feedback and comments. Each year, PITT focuses on a specific school subject and opens up the possibility for teachers to work in an interdisciplinary way.
Together with our PITT-Team, we develop activities for schools that show class material from a different angle: in every PITT activity, I try to make a link between what pupils see in school and research and innovation in Luxembourg.

Ann Kiefer
The perfect place for educational research
After finishing her studies in Brussels, Ann started a PhD in mathematics at the Flemish University, Vrije Universiteit Brussel, joint with the Universidad de Murcia in Spain. Subsequently, she spent some time in Fribourg, Switzerland, and in Bielefeld, Germany, as a postdoctoral researcher. Afterwards, the Luxembourg native returned to Brussels for three years before finally joining the University of Luxembourg.
To her, the University of Luxembourg attracts many talented researchers. Thanks to a supportive ecosystem of funding, notably provided by the Luxembourg National Research Fund (FNR), researchers can carry out extraordinary projects. In terms of research infrastructure, Ann admits that of all the universities she has worked for, Luxembourg has a lot to offer.
Luxembourg is the perfect place for educational research. It provides a lot of opportunities and possibilities to conduct such projects. Moreover the LUCET is a big centre where researchers from different disciplines come together to do research about education.

Ann Kiefer
Going back to her roots
While it was difficult for Ann to leave Brussels, she says she was also happy to return to her home country. After two years, she likes living in Esch-sur-Alzette as Luxembourg's second largest city has a lot to offer culturally and has international communities living together.
Everything works smoothly and is so much easier than in other places. The school system is good and well organised. So you do not have to worry about a school for your kids. The health system works fine, and administration is easy.

Ann Kiefer
Similar articles