In conversation with our young researchers: Gilles Evrard Essuman
09 June 2023
Socio-territorial transformation
Socio-territorial transformation describes the social and cultural assets that exist within a particular territorial space. It refers to the social connections, networks, and shared values and norms that are developed and maintained by individuals and groups in a particular geographic area.
How can we reduce our impact on the environment, on consumption and on production? Which economic models have the potential to increase social well-being as well as economic and social justice for everyone?
Gilles Evrard Essuman is a PhD candidate in the Department of Geography and Spatial Planning at the University of Luxembourg. His research work focuses on social innovation, alternative economies, and socio-territorial transformation.
Towards a novel economic model
Degrowth is becoming increasingly important as the world faces a number of urgent social and environmental challenges that are directly linked to the dominant economic paradigm of continuous growth. These challenges include climate change, biodiversity loss, resource depletion, and growing inequality. This political, economic, and social movement advocates for a decrease in the production and consumption of goods and services in order to achieve greater sustainability, social justice, and well-being. At its core, degrowth is based on the belief that the current economic system, which prioritises endless growth, is not sustainable or equitable in the long run.
Gilles is working on how we can reduce our impact on the environment, on consumption and production in order to increase social well-being and also economic and social justice for everyone. Using participatory action research methods, he tries to answer these questions by exploring what is currently being done at local and citizen levels in a bottom-up way to see what local communities are doing. To this end, Gilles is studying two initiatives in particular aimed at creating a local system. The first one consists in creating a local currency called "la Doume", designed to boost the local economy. The second initiative is an organic farmer called the "Biau Jardin", which offers organic food baskets and carries out socio-professional reintegration.
My research aims to show that we need to think about alternative models of the economy and that local initiatives have the potential to support these processes through a certain form of innovation, through co-construction, through what we call socio-territorial transformation.

Gilles Evrard Essuman
An action researcher
As a European Social Innovation Academy fellow (2018) organised by the European Commission, Gilles has spearheaded several community-based projects both in Africa and Europe. Gilles is an adept non-formal education who enjoys working on local development projects. He has led, coordinated and trained many people on different EU funded projects.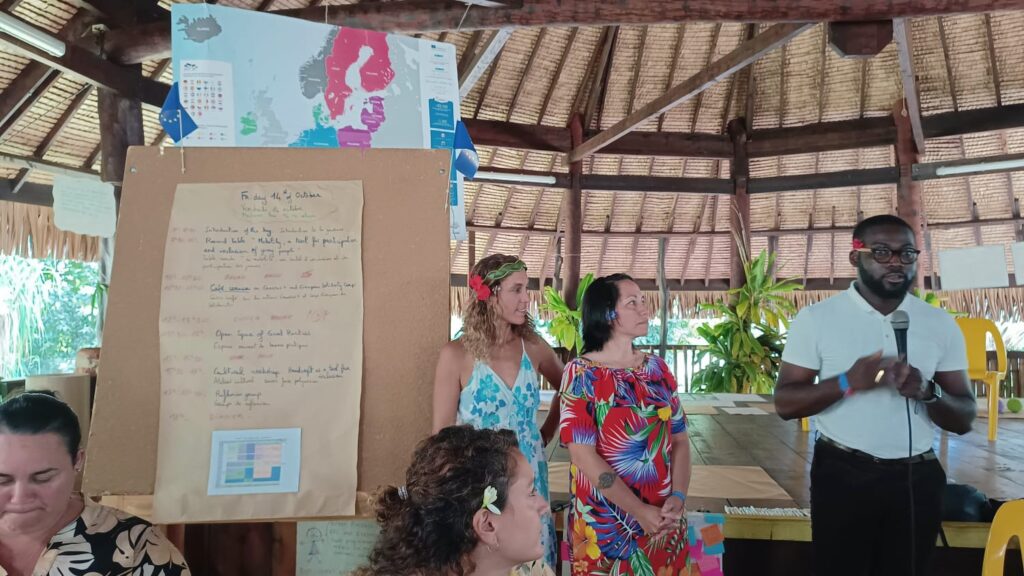 In late 2022, Gilles coordinated a training for local project leaders and youth NGOs working on citizen participation for local development in French Polynesia. The project, funded by ERASMUS Plus, aims to train project leaders from remote territories on how to include and encourage their youth to take action in community development and ultimately contribute to territorial resilience through youth-led initiatives that focus on ecological protection, community development as well as the socio-economic well-being of the territory.
In Luxembourg, the researcher collaborates with different initiatives and NGOs to reflect on various projects, ideas and initiatives that will contribute to local development but also encourage citizen participation at various socio-spatial levels. FACILITEC, CoconutWork, Rotary Hearts, Gaart Belval are among the few organisations he is working with.
Changing the game: Research Luxembourg's trailblazing research
Gilles holds a master degree in social innovation and territorial development from Université Clermont Auvergne, France as well as a diploma in project management and entrepreneurship from the same university.
Gilles chose Luxembourg as a research destination because it is a multicultural and fertile land to test new ideas, theories and get adequate support and to co-construct new ideas. The proximity of the various socio-territorial and economic actors as well as the territorial features strongly encourage quality research.
The university is quite young yet abounds with high-quality profiles from all over the world who are ready to lead groundbreaking research. My team at the department focuses on post-growth economies and alternative economies. These are topics that are buzzing these days and I am happy to participate in such reflections which are of global interest today.

Gilles Evrard Essuman
An open and welcoming country
According to Gilles, the diversity of the population and the openness of the country to welcome people and talents from all over the world is remarkable.
The diversity of cultures, perspectives and experiences help facilitate the integration of new people but also construct new realities that keep evolving and adapting to respond to the existing territorial realities.

Gilles Evrard Essuman
Similar articles