In conversation with our young researchers: Giulia D'Uonnolo
23 September 2022
CXCR3
CXCR3 is a chemokine receptor highly involved in different inflammatory and immune diseases as well as cancer, including Glioblastoma which is the most aggressive and still incurable brain tumor.
How is the chemokine receptor CXCR3 involved in cancer development and what are the molecular mechanisms underlying its activity?
Giulia D'Uonnolo, second-yeared PhD candidate at the Luxembourg Institute of Health (LIH), aims to better understand the role of the CXCR3 receptor implicated in many cancers.
Fighting cancer
Under the supervision of Dr. Andy Chevigné in the Immuno-Pharmacology and Interactomics group of the LIH, Giulia D'Uonnolo's research project funded by a FNRS Télévie grant, focuses on the characterization of the chemokine receptor CXCR3. This receptor is highly involved in different inflammatory and immune diseases as well as cancer, including Glioblastoma, the most frequent and aggressive primary brain tumour, still essentially incurable.
Specialised in immunology with an unusual preference towards cell migration processes, Giulia chose to dedicate her research work to the chemokine network, composed by chemokines and chemokine receptors, which is one of the major driving forces of the cell migration process.
Having a pharmacological approach, Giulia and her group want to better delineate mechanisms following receptor activation, specifically how different chemokines are able to activate different signalling processes and induce different effects.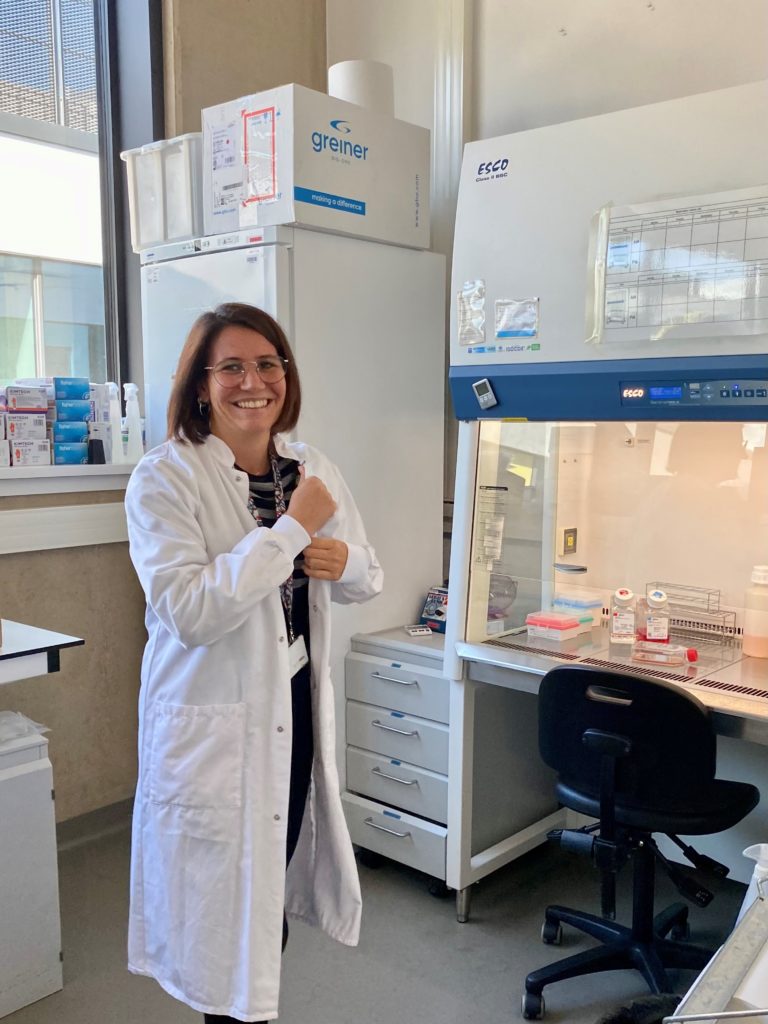 The strength of our group is the pharmacological part, where we test activation properties of the chemokine receptors with several drugs.

Giulia D'Uonnolo
By better understanding the role of this receptor in these pathologies, Giulia D'Uonnolo hopes to eventually pave the way for new therapeutic approaches.
From a thunder during a storm to the blooming of the roses in spring
At an early age, already in school, Giulia has been curious about the most diverse phenomena, always asking why they were happening, "from a thunder during a storm to the blooming of the roses in spring". Later at school, her desire to explore the relevance of the driving forces guiding biological process became more and more evident.
For her higher education, she naturally turned to science and biology with a Bachelor of Science in Medical Biotechnology followed by a Master of Science in Medical Biotechnology and Molecular Medicine at the University of Milan in Italy, her country of origin.
Giulia D'Uonnolo then chose to move to Bellinzona, in Switzerland, to work at the Institute for Research in Biomedicine (IRB) during her master thesis internship. It was at this time that she could focus on one of her current favourite topic in biology which is the chemokine network.
A gold mine for researchers
Coming to Luxembourg was then a logical move for Giulia, as the country is characterized by international and multicultural research centres.
Moreover, she finds out that Luxembourg offers to researchers the possibility to conduct projects in advanced research centres, without aggressive competition nor tight funding restrictions, which can be an important limiting factor in most of the other European countries.
Luxembourg is a gold mine for researchers. There are some advanced research centres where it's possible to conduct studies in a lively and international environment without an aggressive competition.

Giulia D'Uonnolo
And also an attractive place to live
I like living in Luxembourg, I have met the most diverse people with completely different cultural background.

Giulia D'Uonnolo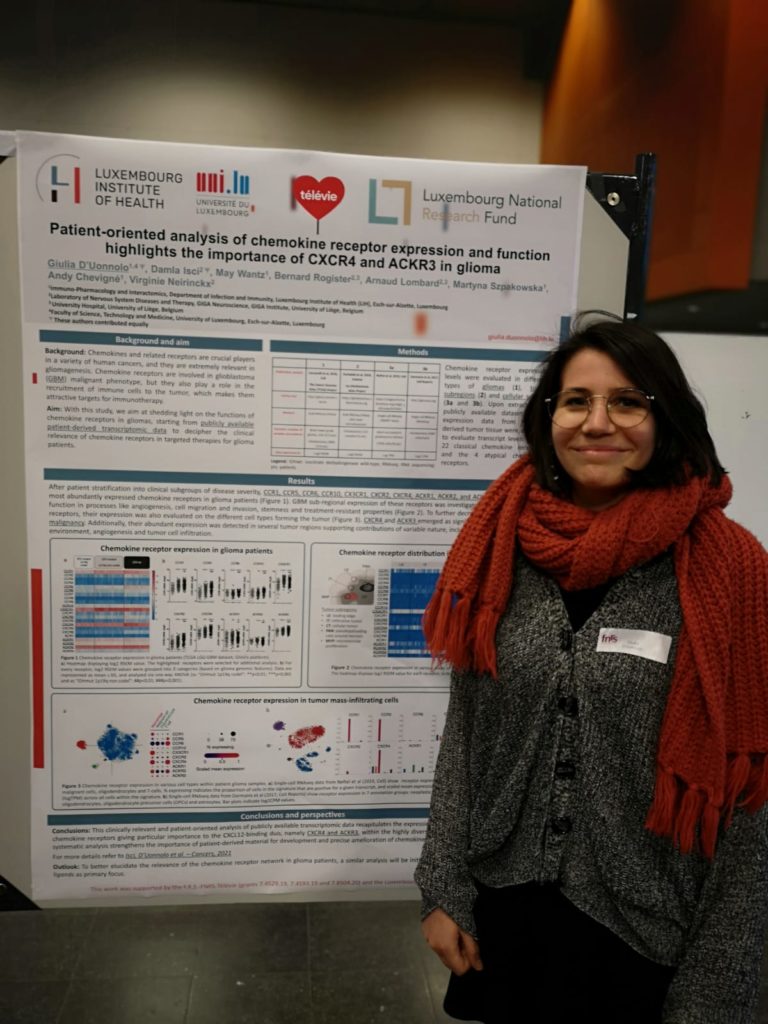 It was not so easy to move to Luxembourg for Giulia D'Uonnolo. Indeed, she arrived in Luxembourg in June 2020 with the first plane leaving from Milan during the pandemic. Despite being only one hour flight distance from her hometown, it was not that easy to go back to see her family during her first year in Luxembourg. "I don't think I would have faced these difficulties if I had moved in a different period of time."
However, Giulia enjoys living in Luxembourg today. For example, she likes the different cultural activities offered by the country and finds that public events and governmental initiatives are very well managed. Especially during the summer season, Giulia is entertained by the numerous well sponsored and nicely organized social activities.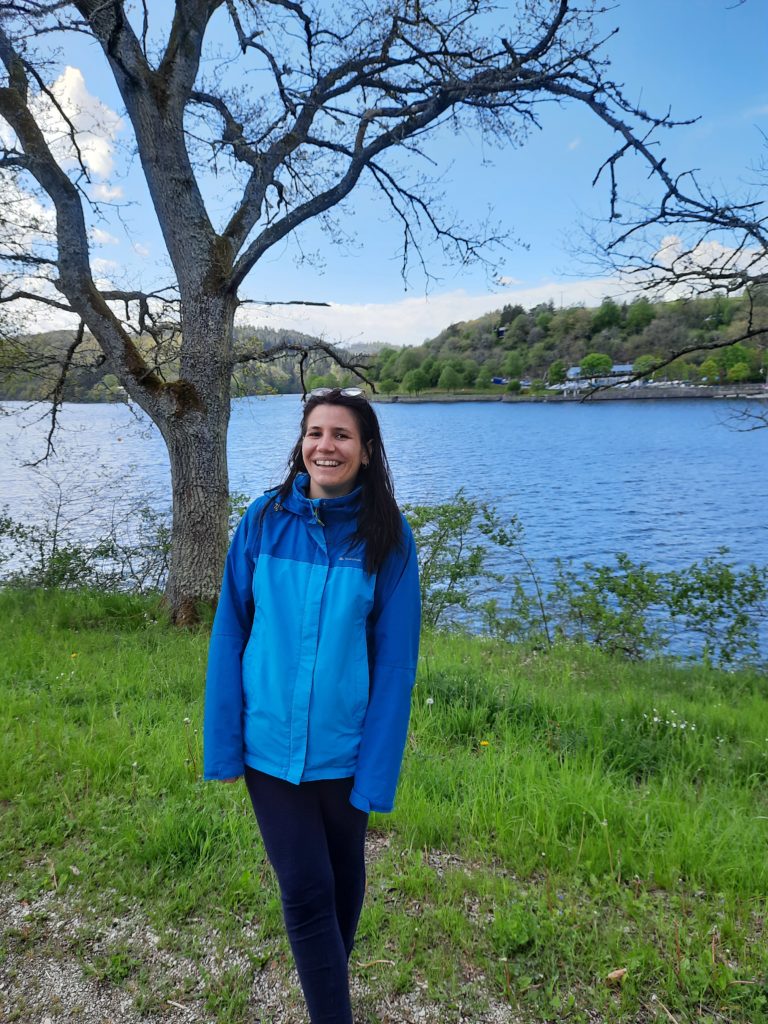 Given the high number of expats living here I think these kinds of events are very important and they are crucial to keep Luxembourg an attractive destination to live.

Giulia D'Uonnolo
Similar articles