Luxembourg hosts international flagship cancer epidemiology conference
12 May 2021
Bringing together about 150 international scientists, clinicians, healthcare professionals and policymakers from 17 nations, the 45th edition of the Group of Cancer Epidemiology and Registration in Latin Language Countries (GRELL) conference takes place in Luxembourg in a fully virtual format.
Organised in Luxembourg for the first time by the National Cancer Registry of Luxembourg (RNC) at the Luxembourg Institute of Health (LIH), the meeting features several prominent speakers, providing an opportunity to discuss the latest developments in the field of
cancer epidemiology with a particular focus on COVID-19 and cancer, as well as childhood and adolescent cancers.
National and international prominent speakers in Luxembourg
The three-day event gathers prominent speakers, who are addressing some of the key clinical challenges related to cancer.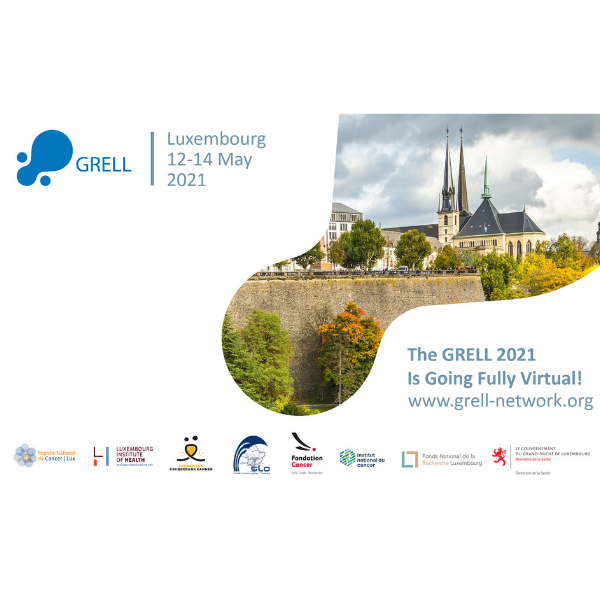 Some of the national and international speakers and moderators include:
Dr Carole Bauer, Fondation Cancer Luxembourg
Prof Gilbert Massard, University of Luxembourg
Dr Sophie Couffignal, Head of the LIH Public Health Expertise unit and Operational Director of the Luxembourg National Cancer Registry
Dr Guy Berchem, Associated Medical Director at LIH and President of the National Cancer Institute of Luxembourg
Dr Claudine Backes, Epidemiologist for the Luxembourg National Cancer Registry at LIH
Prof Michel Mittelbronn from the Laboratoire National de Santé (LNS)
Anne Goeres, Director of the Fondatioun Kriibskrank Kanner
Dr Eva Steliarova-Foucher, International Agency for Research on Cancer, France
Prof Kathy Pritchard-Jones, International Society of Paediatric Oncology & University College London, UK
The association aims to coordinate the activities of the "Group for Epidemiology and Cancer Registry in Latin Laguage Coutries" (GRELL), gathered since 1976.
GRELL promotes epidemiological cancer research, mainly through the registration of cases in geographically defined populations.
Visit Luxembourg Institute of Health to know more.
Similar articles